Rental Car Program

Surf City Nissan Rental Cars Department – Try Before You Buy!
Here at our Huntington Beach Nissan dealership, we understand buying a new car is not only a huge commitment, but a decision which can take a lot of time and stress to weigh out. Additionally, every new car dealership will only allow you to test the vehicle typically for no more than 5 miles. These reasons are why we developed our new Rental Car Program which allows all our customers from the Orange, Costa Mesa, Garden Grove, Long Beach and surrounding areas to rent any new vehicle of your choice to make sure to help you guarantee it's the perfect fit for you!
Our Huntington Beach Nissan Rental Car Department just asks you to abide by the following:
Customers must provide a current, valid U.S. driver's license, proof of full coverage insurance, and be at least 21 years of age to drive a rental car.
Customers must also provide a major credit card or debit card for fuel, mileage or cleaning charges.
Rental cars have no state limitations but are prohibited from being driven into Mexico.
Customers are responsible for any vehicle damage or other costs while the rental vehicle is in their possession, and are expected to return rental vehicles in the same condition they received them except for ordinary wear.
Rental vehicles being paid for by Nissan Warranty, Service Department, Sales Department or another entity DOES NOT INCLUDE FUEL used by the customer. Customers must return the vehicle with a FULL FUEL tank.
A charge of $6.50 per gallon will be assessed to customers returning vehicles less than full of fuel.
SMOKING in rental vehicles is PROHIBITED, and a $150.00 cleaning fee will be charged if necessary.
Transporting animals in rental vehicles is prohibited, and a $150.00 cleaning fee will be charged if necessary.
Rental vehicles being paid for by a third party must be returned within 24 hours of vehicle repairs being completed or customers will be charged the retail rate for each additional day the customer retains the rental vehicle.
Monthly rentals are available as well! Please give us a call to inquire!
24 Hour Roadside Assistance Provided on Every Vehicle
No State/Province Limitations within the U.S & Canada (Mexico Prohibited)
We carry a complete line of Nissan vehicles to Rent Including: Economy, Hybrids, Trucks, SUV's & Minivans
We have both 2WD & 4WD Vehicles to Choose from.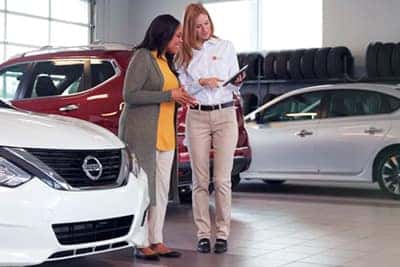 Competitive rates
100% Non-Smoking fleet
New Nissan Models Less than 1-Year Old and Under 15K Miles
Rental age @ 21 or older: with no service fee(s)
Complimentary Customer Shuttle within 10 Miles
Try-Before-You Buy Program
Corporate Rates